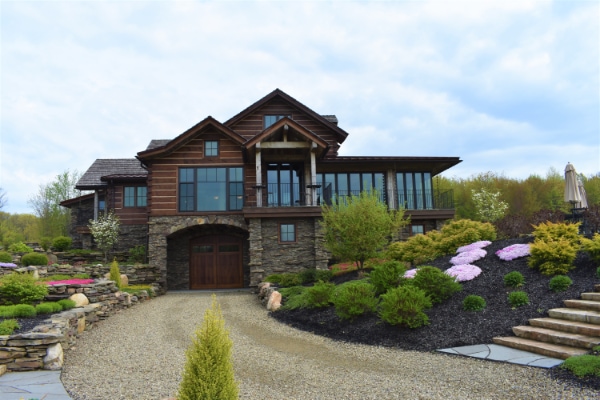 Two brothers, born and raised in Northeast Ohio, enjoyed meeting once a year for an elk hunt in the Idaho wilderness. Each evening many fine wines from all over the world were shared while telling stories of past and present hunts. This is when and where the idea for Laurentia Winery was developed. Both brothers knew Northwest Ohio had many wineries and vineyards, and that the potential for higher quality wines from the Grand River Valley was attainable. A career in the oil and gas industry as a geologist taught older brother Gary to question and study the surroundings, in order to better understand why this area held such potential. As a wildcatter looking for the next discovery, the Grand River Valley was chosen over more well-known areas, such as California, to help bring recognition to this region.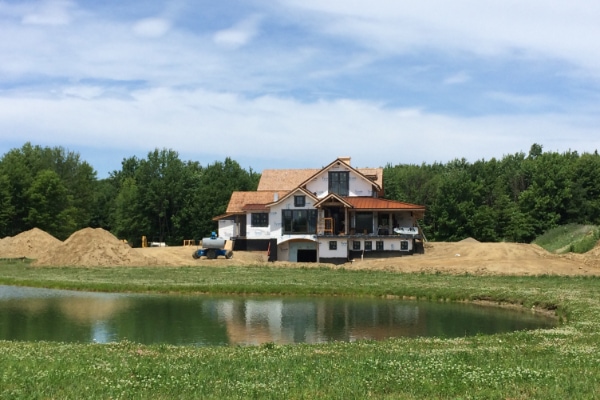 It began over 25,000 years ago when Northeast Ohio was covered with a thick sheet of ice that extended from the North Pole and across the Great Plains. The glacier traveled slowly south from Canada into Ohio. When the planet eventually thawed, the glacier retreated north depositing a geologic bounty of rocks and soil in a formation called a terminal moraine. An added benefit was the forming of Lake Erie and The Grand River, both having positive impacts on the region's climate. The cooling summer breezes off Lake Erie and the beauty of the Grand River Valley created this unique terroir, Laurentia, our winery and vineyard, that we call home.
Timeline
2011
Purchase 14 acres and name the land, Laurentia Vineyard & Winery
Plant first vines of chardonnay and riesling at Stoltz Road
2012
Add 6 more acres at Stoltz Road, which includes grapes for gewürztraminer, pinot gris, pinot noir, and our award-winning 2015 Stoltz Block® Cabernet Sauvignon
2013
Plant the winery block – the vineyard behind the winery – which totals 10 acres for chardonnay, riesling, regent, cabernet sauvignon, pinot gris, pinot noir, vidal blanc, and cabernet franc
Break ground for the production facilities and the winery
Laurentia's first harvest produces a small, but mighty lot including our very first estate wine, the 2013 Estate Chardonnary
2014
The Northeast's brutal winter takes a toll on vines, which results in minimal production for the year
Begin vine preparation for the winter
2015
The Polar Vortex sweeps across Ohio, where temperatures dipped as low as -29 F
Install our first Y Trellis vines, which allows for greater sun exposure and air flow within the canopy
July 1, 2015 – Laurentia Vineyard & Winery Opens To The Public
Harvest produces 32 tons of fruit, which includes our first Estate Cabernet Sauvignon and the 2015 Estate Stoltz Block® Cabernet Sauvignon
Begin vine preparation for the winter, which includes even more technological advances to protect the vines and monitor weather patterns within vineyard blocks
2016
Milder Winter
Add one more Y Trellis for cabernet sauvignon and additional cabernet franc; 33 acres are producing Laurentia fruit
Harvest produces 80 tons of fruit
First harvest of Estate Ice Wine
2017
Harvest produces 112 tons of estate grapes from 13 different varietals; also our first harvest of the Y Trellis vineyard block
2018
2015 Estate Cabernet Sauvignon Stoltz Block® receives 5 medals in national competitions and is featured in Wine Enthusiast magazine
2019
Harvest our second vintage of ice wine, 2019 Vidal Blanc Ice Wine
Plant additional Cabernet Sauvignon vines at our award-winning Stoltz Road location
Replace the Vidal Blanc grapes with Cabernet Franc vines
July 1, 2019 – Laurentia Celebrates Its 4th Anniversary
2020
Expansion of the Stoltz Road vineyard to include additional Merlot, Syrah, Petit Verdot and Cabernet Sauvignon.
Celebrated our 5 year anniversary on July 1, 2020.
2017 Estate Clone 90 Riesling receives a 90 point rating from Wine Enthusiast magazine
2021
Broke ground on our third building – one that will be dedicated to the agricultural sector of the business.
Gold Medals at Ohio Wine Competition
2019 Estate Cabernet Franc Y Trellis Vineyard
2020 Estate Riesling
2022
Gold metal awarded to the 2021 Estate Unoaked Chardonnay at the Ohio Wine competition.
Laurentia releases a limited edition magnum of the 2020 Estate Stratum Red Blend.